home | contact | calendar | about | site map
Lynne Duddy has been described by The Oregonian as "raw, revealing, vulnerable."

Storyteller, monologist, narrative artist ... whatever you want to call it, Lynne Duddy tells stories. She's a self-described cross between Laurie Anderson and Lynda Barry.

Lynne will travel almost anywhere there is an audience listening: retreats, conferences, college campuses, special events, schools. You just let her know and she'll be there. Call her at 503.284.2226.

Narrative Artist
... Lynne Duddy

Singlehandedly!, Portland Story Theater's New Works Solo Festival, is the forum where Lynne has presented each of her solo shows.

2012's solo show, "White Girl," is a story of growing up in N-NE Portland in the 60s and 70s, identifying as a member of the Civil Rights Generation, and being shaped by the powerful changes that continue to occur in our culture around race, community, and what it means to be human.

In 2011, she told "Éist! Is Éireannach mé! (Listen! I'm Irish!)," a true story of the serendipitous windings of fate that brought the love child of one father under the protection of another was met with a warm welcome by the Portland Story Theater community.

Lynne's solo show, "There's No Place Like Home" premiered at Portland Story Theater's Singlehandedly 2010 New Solo Works Festival and then the NSN's LA Fringe Festival. She also performed an excerpt of this piece at the National Story Slam in Chicago.

Her one-woman show, "dark matter," premiered at the first Portland Story Theater Solo Festival before sold-out audiences. Read Inara Verzemnieks' review in The Oregonian. If you would like to order a copy of this audio CD, go to CD Baby and buy it there!

Lynne believes in solo work and is the Executive Producer of Portland Story Theater's New Solo Works Festival, Singlehandedly! Each solo artist uses Portland Story Theater's unique collaborative workshop process to create, hone, and deliver their piece.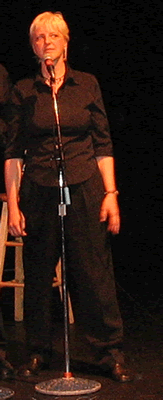 ---
---
Lynne Duddy is one of the founders of Portland Story Theater. She curates an annual new works solo festival (Singlehandedly!) and facilitates workshops in personal narrative. Lynne also performs as a solo artist and has premiered several solo pieces that were produced by Portland Story Theater.

Creating Beauty